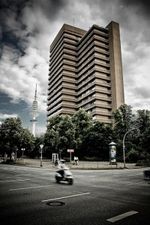 The PHP Unconference will be held in the "Geomatikum" at Bundesstraße 55. Build in the 70ies, You'll see a 19 level concrete building. The auditoriums are on the ground level of the "Geomatikum".

Please click on the MAP to see the location, a picture, many bars, restaurants, fast food possiblities and hotels, or use the route planner  for public transport (or direct HVV link) or bike/foot/car/skates/small plane.
 Or we have this nice arrival description.